Using iTunes, Part 5: Isn't it Genius?
In the last episode, we talked about ways to get a good selection of songs that might be easier to rate than your main library. Most of this was fairly simple - last played songs, most often played songs, good albums. Now let's introduce a little bit of crowdsourcing, shall we?
I'm sure you are familiar with Genius. If you have enabled it, you will for sure have seen the resource hugging 'Genius: Gathering information about your library…' task that iTunes is scheduling once a week. It seems you need at least an i7 iMac with an SSD RAID0 to let iTunes do its Genius preparation in a reasonable amount of time.
But what exactly does Genius do? Well, basically, it scrapes your library for every bit of information it can get: Which songs do you have in your library? Which of these are you listening to? How often do you listen to them? Which songs do you put in playlists together? Combine that with some good data mining on iTunes Store browsing and purchasing information and you can imagine that Apple has a fairly good understanding of songs - who listens to them, which songs are similar to other songs, what goes well together.
Thankfully, Apple decided to not only use this feature to sell more songs ("Customers who bought x bought y as well"), but they decided to give you a handy tool to create playlists automatically, as long as you give them a song as source. Mind you, we're talking about songs in your own library - with (this part of) Genius, they don't force you to buy more songs. It's a shame that this has to be mentioned as something extraordinary now, isn't it?
So, if you give Genius a song, it tries to find similar songs in your library based on the information Apple gathered from all the other Genius and iTunes Store users out there. And at least for me, quite often the choices are really good. Of course, this highly depends on the contents of your library - it is possible that iTunes can't create any Genius playlists from your songs - please don't blame me for that, blame iTunes users worldwide for not listening to the music you are listening to. Or blame yourself, for being so far off the mainstream…
Anyway, I think you can see where I'm heading with this. One folder in my library looks like this: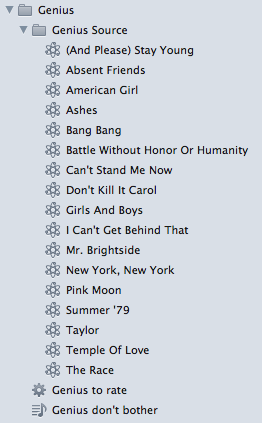 All of the playlists in Genius Source are, as you can see by their icon, Genius playlists which I simply created by selecting a song I know and like (e.g. any of the ones you can read here, from Sugarplum Fairy's (And Please) Stay Young to Yello's The Race) and choosing "Start Genius":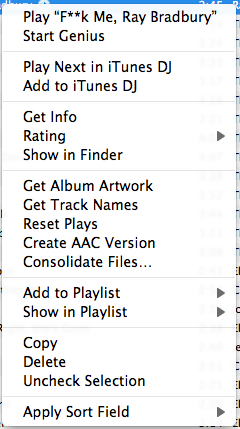 iTunes creates a new Genius mix, which I simply save (top right corner) as a playlist and then move into my Genius Source Folder. Done.
Now, what do we do with this? As I said, this is all about crowdsourcing. What we have in this folder are playlists full of songs that other people (or at least Apple's Genius algorithm) found to be similar to some good songs in our library. Some of them might already have 4 or 5 stars, but some of them might not be rated at all or just have 2 stars, either because we really didn't like them or because we thought we didn't like them when we half-heartedly listened to them a long time ago. Time to check that: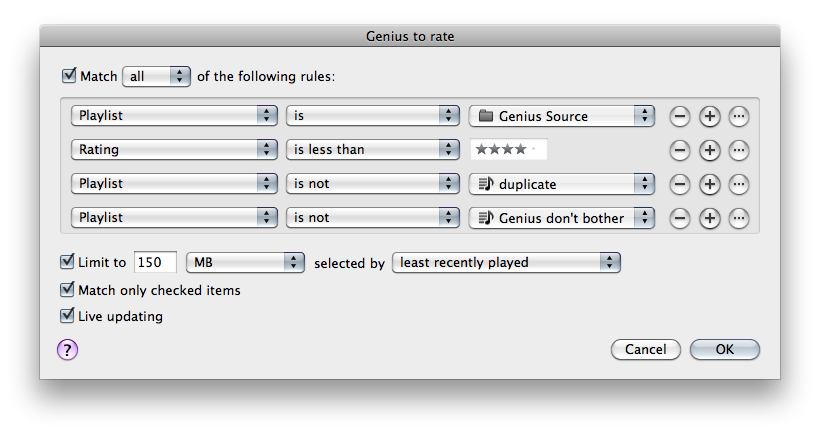 This is my rating playlist. Let's go through the criteria one by one:
Playlist is 'Genius Source': take all songs from all Genius playlists
Rating is less than 4 stars: take only songs with 0-3(.5) stars
Playlist is not 'duplicate': a somewhat crude hack to make sure duplicate songs are not in there - more on that later
Playlist is not 'Genius don't bother': take only songs that are not in this (static) playlist
Limit to 150MB selected by least recently played: start with songs I've never listened to, then go to old stuff
The procedure is simple - listen to songs in there, decide whether they should get a good rating or not. If the new rating is 4 stars or better, the song will be removed from the playlist - mission accomplished, we found a new good song. If the new rating is not so good or it stays the same, the song does not get removed from the playlist. Huh. What's with that? [Update: Obviously, this is only true if the complete number/size of songs within your Genius Folder is below your selected limit. Since the limit is by 'least recently played', any newly played song would be replaced by an older song. Still, it would come back, probably soon…]
Well, for some time, I had criteria in there to make sure that a song gets removed from the playlist: Last Played and Last Skipped, both set to not within the last 1 month. The problem with that is that the song might return after that, because the crowd still thinks it's a good song, although I wholeheartedly disagree - Newsflash, hessi: Not everything is about you. They simply don't care, unfortunately. Now, if you set the threshold for these settings very high (somewhere along the lines of 5 years), the song does not show up anytime soon, that's for sure. But unfortunately, neither do songs you did listen to within the past 5 years, whether you distinctly judged their rating at that point or not. Say it with me: Unacceptable.
My solution is crude, I know that, but it's the best I could come up with: Every song that should not get a better rating than 3(.5) stars will be (manually) copied into the static playlist 'Genius don't bother'. From that moment on, I know for a fact that I've checked this song and it should not show up in my Genius Rating playlist anymore. hessi trumps crowd.
Now, I still owe you an explanation for the criteria: Playlist is not 'duplicate'. If your library is bigger than a few dozen songs, you will be familiar with songs that you own twice. They are on the original album of the artist, they are on a Best Of, they are on a compilation. It's not a live version, it's the same damn recording. You can't delete any of the songs, because iTunes can't handle multiple albums per song (yes, I know, you can create a static playlist per album, but at the moment, I have 1703 albums - no, I do not want to to create a static playlist for each of these). Now, everything would be fine if the song isn't particularly good and only got 2 stars: it will be played in the context of that album, but that's about it. But what if the song is really good, you possible even want to give it five stars? You can't give all instances of that song 5 stars, because that would mean that on average, you will listen to this song with your star-related shuffle playlists twice as often as to any other, since it's in your library twice (or thrice, or…). Worse, the second instance of the song could sneak into your quarantine period and be played just a day after the first one. Unacceptable!
My somewhat awkward solution to this is to decide on a main instance of the song (usually on its original album, if available), give that one the real rating and give every other instance 2 stars. These instances are then copied into a static playlist called 'duplicate". As I said before, in my library 2 stars mean that the song can be played in the context of its album, but no shuffle playlist will look at them. Some smart playlists that don't rely on stars alone (e.g. the Genius one introduced here) check their result against the duplicate playlist and filter out duplicates. The reason for that is that I might not remember that there is a main instance of the song in the library which already got a good rating. Problem solved, works for me…
Back to Genius - every once in a while, you should modify, add or delete the playlists. Either generate a new Genius playlist from the same songs (just click on Refresh in the top right of each Genius playlist) or find new songs in your library that you want some crowd opinion on. Just save the new playlist, move it to the Genius folder and your smart rating playlist will update automatically - as long as there are songs in the new Genius playlists that are a match to the criteria and limit of it, of course.
I hope I gave you another, new way of looking at your library - make sure to tune in to the next instance of Using iTunes later this week.