Using iTunes, Part 4: Let's get the Rating started
Previous Posts:
In the last part, I promised you some way to make the tedious process of rating more bearable. Let's start up front by saying that I will not show you some magic way to get a library with 35.000 tracks rated in an hour - this is a lot of work, especially if you want to do it right. What I will show you, though, are some hopefully clever ways to make a selection of the songs to rate, based on other information in the library. I don't know about you, but some songs are definitely easier to rate for me than others.
Let's start with something simple. What can I easily rate? Something I've just listened to: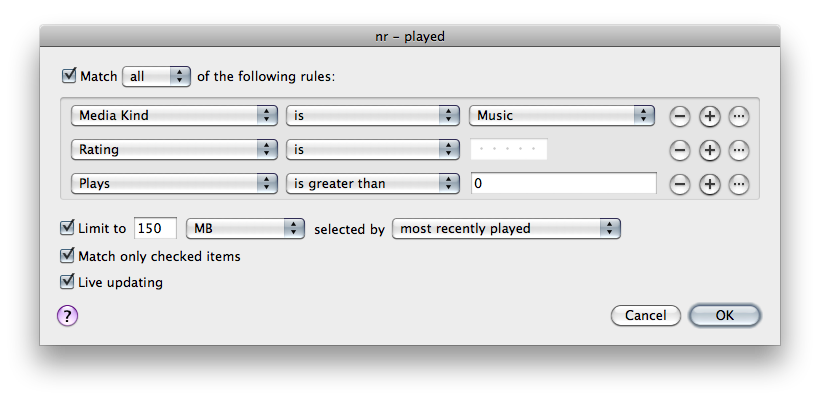 Type Music, Rating 0, Limit to 150 MB of most recently played. Setting the Play Count to >0 is just a way to make sure that the playlist really contains only songs you've already listened to. iTunes has the… interesting behaviour with Limit selections to go "beyond" the selection as soon as nothing else is available. If you only have 5 unrated songs which you've already listened to in your library, it will top up the list with songs you've never listened to (admittedly, they are definitely at the bottom of a "most recently played" list). These songs seem to be ordered by Artist, although I think I've seen them being ordered by Album at least once, as well. Unfortunately, I can't replicate that anymore. I thought it depended on the sorting in the main library at the point of creating the smart playlist, but that logic seems to be wrong…
How you work with such a playlist is up to you. Sometimes, I go through the list and give ratings to songs without actually listen to them again - just out of memory. Sometimes, I choose this playlist to listen to in iTunes DJ - as soon as I remember the song, I rate it accordingly and either skip it or listen to it again. Obviously, 5 star songs have a higher probability to be listened to again than 2 star songs…
Now, you could argue that it doesn't really help you to have songs in there you have listened to 2 years ago - who remembers them now? Feel free to add Last Played in the last x days/weeks/month as another criteria.
Which brings me to the next playlist - the more often I listen to a song, the more I might like it - or just remember whether I like it. For this case, I have a second playlist: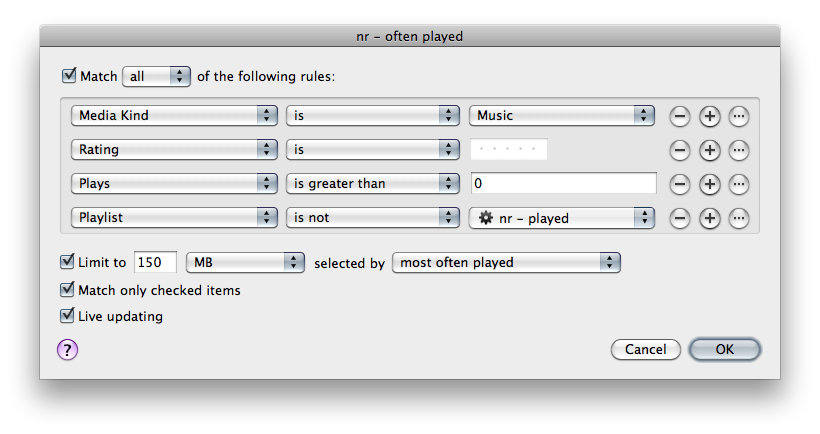 Similar criteria, but this time, the selection for the Limit is most often played. As you can see, I decided to exclude songs already in my most recently played playlist. It is up to you whether you want to do this and whether a song should preferably go into most often or most recently played. This is my choice and it makes sense to me. Once again, I use this playlist to either apply ratings directly or listen to the songs once again.
Note that iTunes automatically applies a sorting of your playlist depending on your Limit: Most often played: Play Count descending. Most recently played: Last Played descending. If you ask me, that's a nice touch and I mostly keep it that way. If I'm very keen on seeing progress, I will change the sorting to the first column (item number) and see what vanishes and what appears. With the item number, you can be sure that everything new will be added at the bottom, even if it would be the first item to match the criteria. To see what I mean play an old song not rated: If the playlist "recently played" is sorted by Last Played, it will show up at the top - if it's sorted by item number, it will show up at the bottom and remove the least recently played song in the playlist.
So, we've covered songs which are possibly easy to rate, since we know them reasonably well - time to look for another source of unrated tracks - new songs: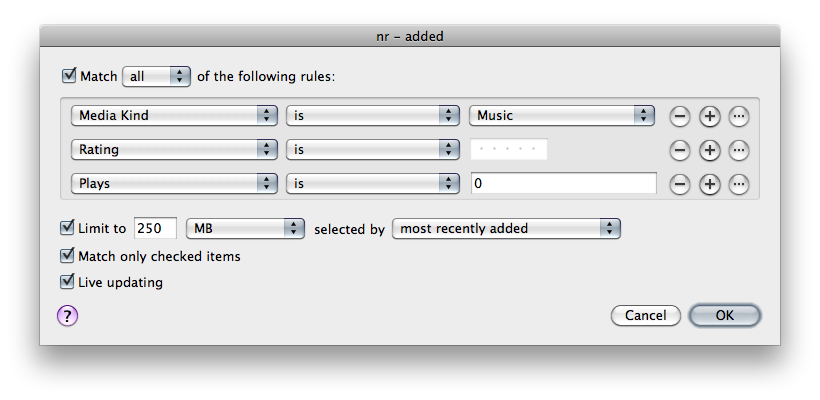 The criteria is as expected - it should be Music, it should not have a rating and it should not have been played yet. All of this is limited to the most recently added songs. Now, once again, feel free to change this accordingly. It is my particular way that the actual Play Count of songs in this playlist should be 0. If it makes more sense to you to have some kind of "heavy rotation" playlist, where you put everything new and listen to it until you rate it, that's up to you. I decided that songs I've listened to but didn't rate should move into the "recently played" playlist - which they do automatically - and make room to older songs in this playlist. You might know this already: Your mileage may vary…
Next comes a playlist I don't know whether I should really mention it - it's damn ugly, but I haven't found a better way yet and I have to admit I use it quite often: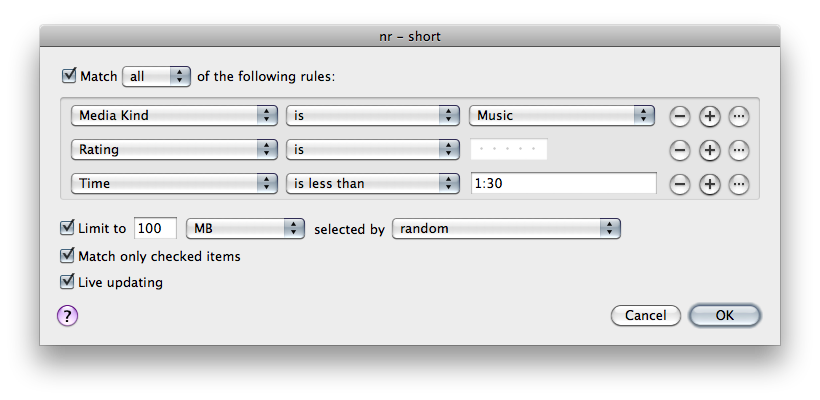 Yes, I know - absolute values in the criteria. You've teased me about this in Part 1 already, but what can I say? It works…
So, what does it do? Imagine you're in a line at the checkout and know you have about 2 minutes to spare. You don't know how long it takes to read the next InstaPaper article and you don't want to go for Twitter or your RSS feeds. Just fire up this playlist, listen to one song and rate it. Done. Depending on your library you might have a lot of spoken word and other crap in there, for example announcements in live concerts. These can be dealt with quite easy - I, for example, give them two stars: Never show up in any shuffle playlist but include in the album.
As I said, ugly but efficient…
OK, now for something more sophisticated. Imagine you have an album of which you have rated some songs quite highly, but there are still songs in your library from that album that you haven't listened to or rated yet. There might be a good chance that you like these songs, as well. Up until iTunes 7.4, this was quite a hassle - sure, there were AppleScripts floating around to create static playlists with songs from albums/artists you seemed to like according to the rating, but it just wasn't as nice to use as iTunes should be. Fortunately, in iTunes 7.4 Apple introduced Album Rating - without advertising it. This might be because it's behaviour seems a little bit erratic if you just play with it, but actually, it's not that difficult:
Album Rating will show you the average rating of an album based on the ratings given to tracks from the same album - excluding Rating 0. For example, if you have given one track of the library 5 stars and another 3 stars, and no other song of that album is rated yet, the Album Rating of this album is going to be 4 stars: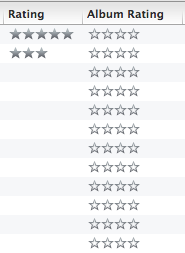 Now, these stars are a little bit different to the "official" stars: For starters, they are white instead of black. This shows you that they are applied automatically and not chosen by the user. But, and that's an advantage as well as a disadvantage, they match criteria in smart playlists. And so we can create another playlist: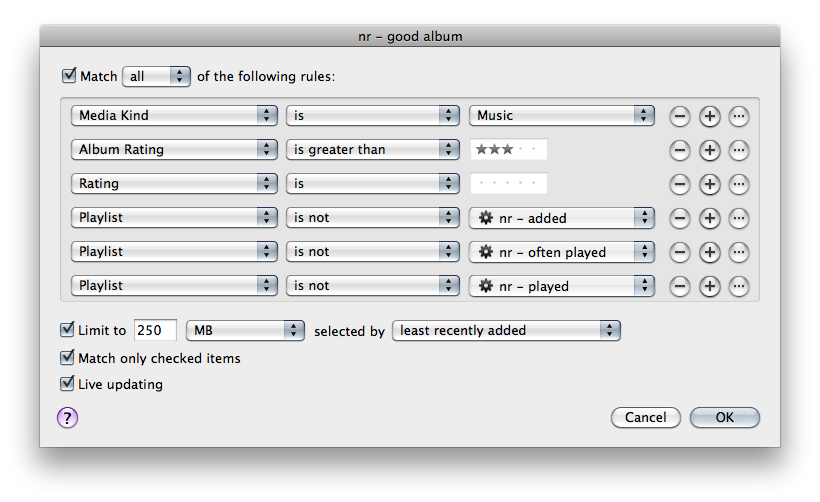 As you can see, I have to use an absolute value, once again: Album Rating is greater than 3 stars. You have to decide for yourself whether this value makes sense for you or whether it should be something like 4 or even 2 stars… This playlist will only be used if a song is not captured in recently added, recently played or most often played. See for yourself whether this works for you.
Another option I chose for this playlist is to use "least recently added" as the selector for the Limit. I decided that I already have enough playlists that look for new songs, there must be something that looks deeper, maybe even discovers old gems or - to be honest more likely - old sins of one's youth, which in the end force me to change the rating of the songs responsibly for the average Album Rating…
I mentioned above that Album Rating's behaviour can be erratic - we've already covered some of this in the comments, but I think it's worthwhile mentioning it here, again: So far, we've used Album Rating as a read-only value. Note though that you can assign a rating to an album, which results in real (black) stars in Album Rating, but this has side effects: Not only does track rating effect the Album Rating, it's the same the other way around. As soon as you give any song a real value for Album Track, all tracks of this album will get this rating and all songs that don't have a specific rating yet will get this album rating (white stars, so at least you can see the difference):
Unfortunately, I have not yet found a way to keep these songs out of normal rating-based playlists, which means that tracks that are not rated yet could show up in your 5 stars playlists just because you rated the album with 5 stars. My advise would be to stick to one logic, either rating tracks or albums, but not both. Make use of the automatic process like I did with the playlist above, but don't mess around with it too much…
And that's it for today. I've shown you most of my playlists for rating, which so far helped me to rate close to 15.000 songs in my library. Hopefully, you will have success, as well. If you have other ideas on how to find songs that are easy to rate please share them in the comments.
I am still planning on writing about third party software to help organising your library - rest assured, it will be part of this series at some point…
Until then, have a nice day and thank you for your attention. I really enjoy all the feedback I get on these articles.