Using iTunes, Part 3: The magic of iTunes
So far, we've seen a few simple ways of dealing with iTunes libraries. They all have one thing in common - they depend on actually rating songs. Now, if you have a big library and have never actually rated a song… good luck. This is really tedious work, that might be fun for the first few hundred dozen songs, but after that…
Nonetheless, we have to start somewhere, so let's give it a go. What are we looking for, actually? Simple: "iTunes, give me all songs that I haven't rated yet":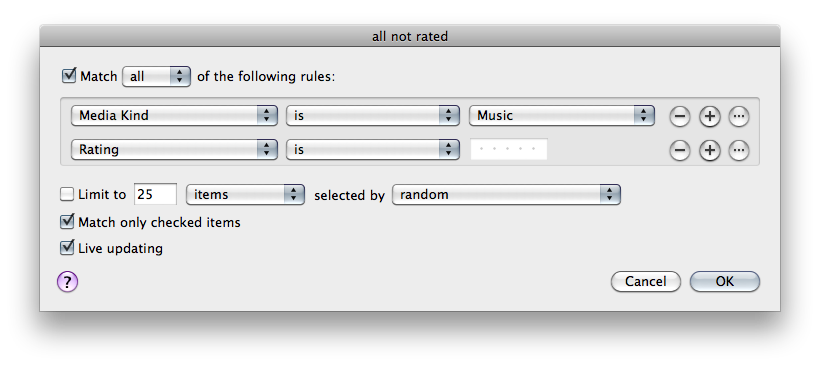 That was easy… but wait, this has a downside:

14 fuckin' days! - And yes, this is my actual result for the playlist above, so don't get your hopes up too high that everything will be fine as soon as you start using a "sophisticated" system…
Of course, if you like impossible challenges, take this playlist and be happy, but I am a person who likes to break stuff down, make it more accessible. Well, by now we all know how we can achieve this - the fabulous "Limit" system: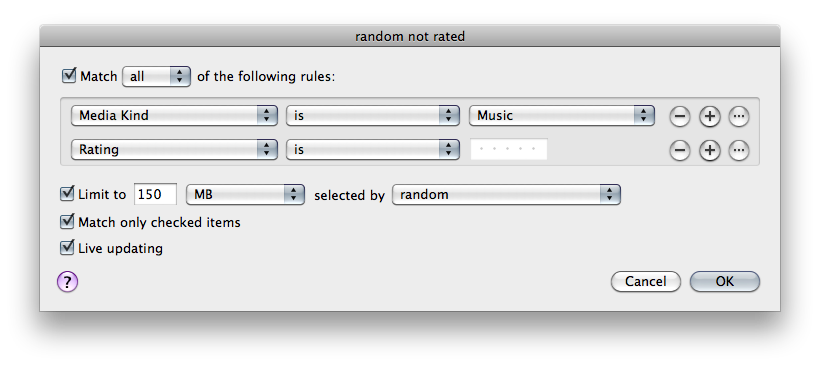 For the moment, let's pretend we are starting from a big library, no ratings, no playlists. We don't have any indication on what might actually be a good song. Consequently, it doesn't really matter what we look for, we can just select the tracks to rate at random. 150 MB, that sounds good. And, bonus, you can sync it to your iP[[o|a]d|hone] and rate songs on the go. Yes, that can be fun. And more productive than playing another round of Doodle Jump or Angry Birds. If it's Carcassonne, on the other hand…
Anyway, we have a playlist now, so let's assign some stars! Go into the playlist and press play. Listen to the song for a while and decide which rating it should get. Ready? Apply the rating. See what happens? The song gets rated, the playlist updates itself and iTunes skips to the next song. Which is actually a surprise to me - until fairly recently (definitely iTunes 8, maybe even 9) it simply stopped after that. Good move, Apple, but - of course - still not good enough. Granted, in some cases this might be exactly what you are looking for, but let's imagine you want to listen to the song until the end…? Or you're so far beyond the border to insanity that you can't take it that you've listened to 85% of the song until you could finally decide what the rating should be like and then iTunes removes the song and your library will never reflect the fact that you've actually listened to nearly the whole song! Your whole quarantine system might be in jeopardy! (How sad is it that this is actually not much of an exaggeration on how I feel about this issue? - yeah, I thought so…)
Which begs the question, what shall we do about this? Ah, I see your proposal - clearly, "Live updating" is the culprit, so let's get rid of that. That is a possible solution, yes. Now be honest - are you satisfied with that solution? Sure, it lets you finish the song even after you've rated it. But to actually get new songs, you will have to manually trigger the update. Unacceptable.
Luckily, there is a solution. Have you ever looked at the top of your list of playlists? There's one special playlist, called "iTunes DJ". The core functionality of iTunes DJ is easy to explain: choose a playlist as source and play songs out of that playlist on shuffle. Sure, in the last few versions of iTunes it grew into some kind of monster on its own, with guest remote controlling and even voting capabilities, but let's go back to the basics for the moment: it takes a playlist as source. I wonder what happens if we give iTunes DJ our "random not rated" playlist as source, play a song in there and rate it. Go ahead, give it a try. See what happens? It rates the song, the song gets removed from the smart playlist, but iTunes DJ continues to play it.
And this, ladies and gentlemen, is the magic of iTunes.
99% of all the music on the my computer is being played through iTunes DJ. While I play songs, I can work on playlists, I can change sorting or the filter on the main library, I can rate and edit songs as much as I like - iTunes DJ just continues to play. And I can always return to the list of songs being played at this moment. If I want to see what I listened to or skipped in the past half hour, I look at iTunes DJ, it will tell me. iTunes DJ is a simple, elegant, no-frills music player. Everything around it is a somewhat bloated, but very capable music management system.
Now, I know that you can't listen to everything in shuffle. Unfortunately, iTunes DJ doesn't have a non-shuffle mode. Or does it? Imagine you want to listen to a full album in the correct order. Look for the album in iTunes (either in a playlist or in the main library). Mark all songs of the album. Right-click: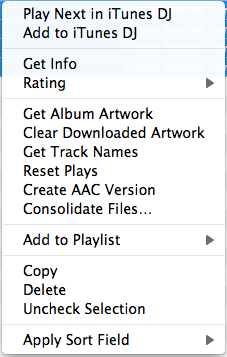 Look at the first two lines of the context menu. "Play Next in iTunes DJ" and "Add to iTunes DJ". Both will put all marked songs in your iTunes DJ queue, exactly in the order they are at this moment. The difference? "Play Next" does what it says, it will put the songs in between the current and the next song. If no song is played right now, it will start with the first marked one. "Add to", on the other hand, simply appends the marked songs at the end of your iTunes DJ queue. So how do we make sure that iTunes DJ doesn't return to shuffle mode after the album ends? Easy, its source has to be empty. And yes, that works as you expect it to, just give it an empty playlist as source. Small drawback - iTunes doesn't believe that you really want to do that: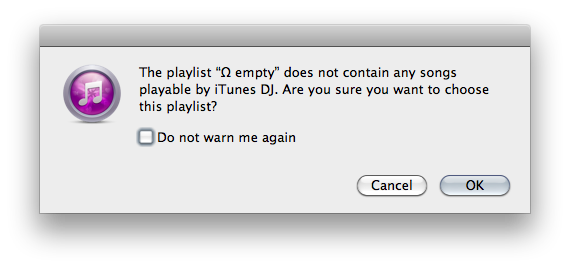 Yes, as you can see I have a special playlist exactly for this purpose. And no, it is not a smart playlist. Although this might be a nice exercise: Define the most complicated criteria that will deliver an empty smart playlist in every iTunes library.
While we are at the topic of playing a full album, there's a neat little trick I'd like to mention here. Have you ever wondered what the small arrows next to Song Title, Artist and Album are for? Click one. If you have an iTunes Store account, it will open the store and show you the song/album or the artist in the store. Very weird behaviour, since you already have that song. Why would you want to buy it again?
Now go back to your library. Click the arrow again, but this time, hold down the alt key while doing so. Instead of sending you to the store, it will show you the main library, but with a filter: Only all tracks of this album or all songs by this artist. See what I'm getting at? A few lines above, I suggested you can simply add a full album to iTunes DJ by marking it and use "Play Next in iTunes DJ". With this functionality, it takes you not more than two steps from every song in any playlist to having it played in the context of its album in iTunes DJ. Alt-click the arrow, press Command-A (mark all), right click and choose "Play Next". OK, these are more than two steps, but they feel like two.
To make life even more easier - you don't actually have to alt-click to remain in your library. Just open a Terminal and write:
defaults write com.apple.iTunes invertStoreLinks -bool YES
Restart iTunes and from now on a simple click will activate the filter in the main Library, while alt-click will bring you to the iTunes Store - whatever that is for…
And with this glorious example of Apple's strategy to keep stuff simple on the surface but very powerful beyond, this advertisement iTunes Help article episode of iTunes for the professional OCD person comes to an end. Be sure to tune in next time, when I will open up my heart a little bit further and give you an idea of the the ways I try to make rating less tedious and more… no, who am I kidding? It's still tedious.