Using iTunes, Part 2: Quarantine periods
In the first part of this series, we've created smart playlists for songs rated with 5 stars (and 4.5 stars, and 4 stars, and…). As long as you will meticulously maintain each song's rating (we'll come to that later…), you can now simply chose the playlist 5 stars and know for sure that you won't get Miley Cyrus or Tokio Hotel (and if your mileage varies on that one I want you to leave this blog now. And never come back again).
Anyway, having good songs at your disposal at any given moment is nice, but how about something more sophisticated? Not like, I don't know, music radio stations? You know, "The best songs from the 60's, 70's, 80's, 90's and today"? And in the end, it's just the same Top 10 playlist on shuffle… way to ruin "Männer sind Schweine", thank you Antenne Bayern.
So, what we actually want is a way to make sure songs are played with a reasonable repeat rate - ideally based on their rating. Guess what: iTunes can do that.
Let's have a look at my main playlists: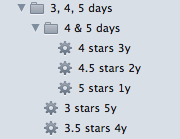 Obviously, the higher a song is rated, the more often I'd like to listen to it. The description should make clear how I do that - "5 stars 1y": 5 stars songs not listened to in one year. 4.5 stars: 2 years. And so on. Whether you will copy my (let's face it) ridiculously long quarantine periods, as I like to call them - one year for the highest rated songs, 5 (sic!) years for 3-star songs - or go for something more reasonable, like 14 days for 5 stars and 2 months for 3 stars is entirely up to you - it highly depends on your daily music throughput and the number of songs you have. For me, these figures work - and by work I mean that all songs are reasonably often repeated but the playlists are never empty or close to empty.
Once again, note that I use folder to combine playlists with OR. Both, the "4 & 5 days" as well as the "3, 4, 5 days" folder are actually playlists I use quite often.
In detail, all of these playlists are similar: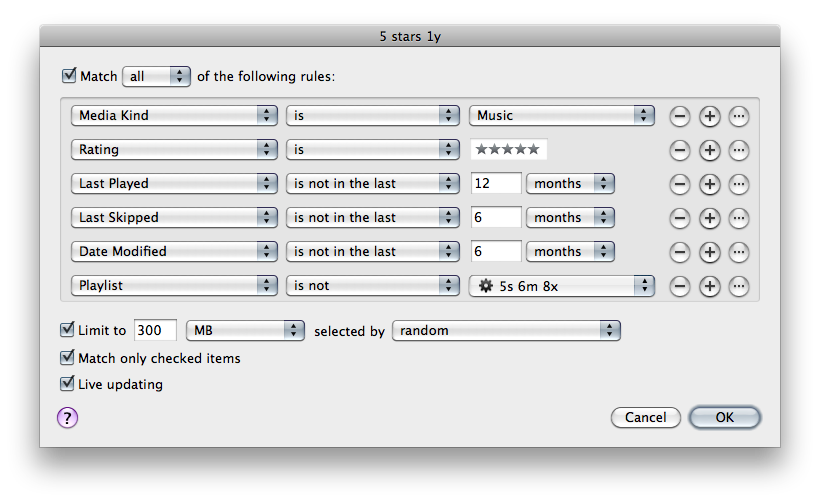 Despite the obvious Media Kind, rating and period for "Last Played", I decided to put two more time-based criteria in there - "Last Skipped" and "Date Modified". Sometimes, I'm definitely not in the mood for a particular song and therefore skip it. Usually, this alters my opinion of this song for some time, therefore I will give this song a timeout without actually changing its rating. I decided on half the period of the actual repetition rate per rating, but once again, feel free to change that.
Now, speaking of skip. Apple introduced the skip counter in iTunes 7 and it has some interesting logic to it: If you skip a song after it is played for at least 2 seconds but less than 20 seconds, it increments the skip counter. Otherwise, it doesn't do anything. Huh…
Actually, the 2 second rule, I can get behind. If I'm familiar with an album or a playlist, I sometimes quickly skip a few songs until I come to the one I want to listen to. Having these skips count in the library would result in "unfair" treatment to these songs. 20 seconds, on the other hand - I wonder how they came up with that… I could imagine their thinking went along the way of: Skipping a song within 20 seconds means you don't like the song. Skipping a song after that period is more a result of: "oh, I found something else, let's switch." - Well, could be, anyway.
So, whatever their reasoning, these are the rules behind skipping, therefore this criteria is of limited value to you if you are a slow thinker and need at least 30 seconds to realise that this is not the song you'd like to listen to right now. Better hurry up!
This leaves us with "Date Modified". And me with a dilemma. It's not that I don't want to explain what I'm doing here, but actually I don't want to do it right now. It is quite peculiar and requires a lot of additional information that I'd like to keep for a later post. For the moment, either ignore it or think of this criteria as something similar to the skip counter. Yes, I know, that's unsatisfying… bear with me, will you?
Before I use the playlist criteria as a nice way to bridge to the next playlists, give me a few sentences to explain the limit. Of course, you could use this playlist without any limitations (and actually, I do have the same playlist without limitations somewhere in my list, to see how many tracks would actually meet all criteria), but there are two reasons not to do that:
First, if you own any kind of portable music player and have more than a few songs in your library, you will be familiar with insufficient space. Limiting the songs you sync to your device is a must, and of course, for iTunes aficionados like us an automatic solution is the only one acceptable. Furthermore, to be safe from unpleasant surprises due to high bit rates or long songs, neither a limit on the number of items nor on the length of the playlist is acceptable. It's always a good idea to calculate with fixed sizes per playlist to have an absolute maximum of space allocated to this playlist on your device(s).
Second, and in my opinion even more important, is the idea of weight. I mentioned above that the enclosing folder are my main source of music. As you know, these just combine all their playlists in them. Now, having songs from 3 to 5 stars in a playlist, further filtered by the last time I listened to them is one thing, but I'd like to make sure that 5 star songs are still more common in my mix than 4 star songs, which should be more common than 3 star songs. How to do that? Easy, just make sure you have more 5 than 4 or 3 star songs in your playlist. Therefore I gradually reduce the size per playlist:
5 stars: 300 MB
4.5 stars: 250 MB
4 stars: 200 MB
3.5 stars: 150 MB
3 stars: 100 MB
As long as your bit rate is similar over most of your songs and you don't rip your most loved songs with thrice the bit rate of everything else, this should result in three times the amount of 5 star songs as 3 star songs. Sounds like a nice weight criteria.
One more thing on limits - I mentioned above that the long quarantine period works for me - together with the size of your playlist there is one more thing to think about: Number of songs meeting the criteria without limit at any given point. If you are in any way as particular as I am, you want to make sure that you not only don't run out of songs in the playlist, but even that the amount of "spare" songs not in the playlist due to the limit doesn't run below a certain threshold at any given time. With some bad luck, this would mean that all songs in the playlist have been played around the same time in the last period. And that would make things more boring. Which, of course, is unacceptable. And yes, I agree, that's quite anal. I've been called worse.
Now, finally, let's have a look at some more playlists, shall we? The last criteria in these playlists is: Playlist is not 5s 6m 8x". I think you can imagine what that means…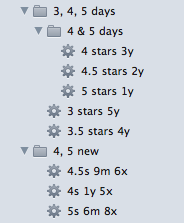 As you can see, within "3, 4, 5 days", there is another folder called "4, 5 new". And how do these playlists look like? Take "5s 6m 8x" as an example: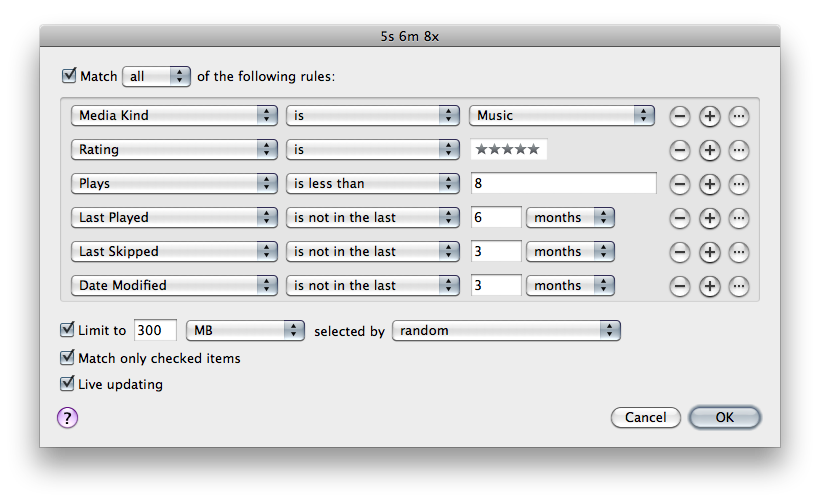 Very similar to the playlists above, as you can see, with one addition: "Plays is less than 8". The result of that is that songs in here are usually either neglected or new. Both good reasons to give them better attention. Therefore these playlists shorten the quarantine period per song significantly - as long as the song is played less than 8 times. The actual values can easily be seen in each playlists description:
5 stars, 6 months, 8 times played
4.5 stars, 9 months, 6 times played
4 stars, 1 year, 5 times played
I know, that's not linear and doesn't fully line up with the normal playlists. It bothers me, as well, but I've tried it with 4.5 stars, 1y, 6x and 4 stars, 1.5y, 4x - there are just not enough songs left most of the time… consider it work in progress for the time being.
Once again, there is a nice, linear limit in place:
5 stars: 300 MB
4.5 stars: 200 MB
4 stars: 100 MB
Note that although these playlists are all about "new" songs, I didn't get tempted to use a limit based on "Most recently added" or similar. Although that would certainly help getting the new songs into the playlist, it would also put too much emphasis on them, so that old songs would never make it into this playlist until I've listened to all newer songs within the quarantine period and would not have bought new ones since then. Unfortunately for my bank statement, that usually happens quite a lot… Furthermore, and for me even more severe, it will result in quite a static playlist, since the same songs will be added in the same order every time their quarantine period runs out. Once again, unacceptable.
I'm not going to mention this time that there's another folder which can be used as a playlist, too… oh well, guess I just did. Well, in case you haven't noticed yet, there's a folder. Hurray!
And with this more detailed look into my quite OCD ruled brain iTunes, it's time to call it a day. Once again, I hope you've learned something or at least considered this worth reading. Without repeating myself, let me reassure you that more is going to come, hopefully soon. We still have to find out how we're actually going to rate songs…