Using iTunes, Part 1: Introduction to stars
I consider myself an avid iTunes user. In fact, I would call myself an iTunes fan, although I know, accept and often join the typical rants about iTunes. Yes, it is bloated beyond belief and so far, Apple doesn't seem to care about treating us with something more modern - 64 bit? Maybe at least Cocoa for a change? No way Jose.
Still, below its overwhelming interface with such gems as iOS App Management, Apple TV storage hub or eBook support and besides the fact that it is more or less now the gateway to the iTunes Store, iTunes is quite a good music management tool and still a music player - a good one at that.

At the time of writing, my iTunes Library consists of 17307 items of music (not counting movies/TV shows, apps, Podcasts, Audiobooks etc.). Luckily, iTunes takes care of the gruesome task of organising these files, leaving me with a database-like interface to my music based on metadata in the files (and the library itself, but let's forget that for the moment).
Now, I decided to write about my usage of iTunes because I've seen so many people being fascinated by the most basic smart playlists that I decided it's time to chime in and show my… advanced? anal? way of "working" with iTunes.
I'd like to see myself as seriously interested in music, always hunting for new bands and at times very keen on trying to find the right song for the moment, but on the other hand, most of the time I'm listening to music I don't want to think about what to listen to, I just want to make sure I will like it and it's not something I've heard five minutes ago.
One more thing you should know before we start is that I'm not an album listener. Yes, every once in a while I decide to listen to an album from the first to the last track, and neither iTunes nor my system will hinder me in doing so, but nearly everything I do in iTunes is counter-intuitive to album listeners. For me, music is about individual songs.
Enough with the warnings already - time to dive in:
I'm sure by now you have realised that I heavily rely on stars - iTunes' way of rating songs from 1 (or even 0) to 5 stars helps you quickly finding a bunch of songs you will usually like. For most people, these songs will be marked with 5 stars, therefore it's always a good idea to have a smart playlist will all your 5 stars songs. Since I am not only interested in my best rated songs, but also in the distribution of stars among my library, I have a smart playlist for each star category: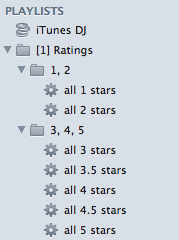 Straightforward, yes, but a few things might still be worthwhile discussing. As you can see, I like to use Playlist Folder - for two reasons: First of all, they help to tidy up the list of playlists - since I have about 250 at any given time this is quite useful. More important though, each folder is a playlist, as well. It contains all songs in all playlists below it, in other words it's a simple OR of all its containing playlists. Very helpful indeed. Since my threshold for songs like 'ok, well…' and 'not bad, actually' is between 2 and 3 stars, I decided to group my star playlists as 1/2 and 3/4/5. Of course, your mileage may vary…
Furthermore, I consider these playlists one of my most important ones, therefore I'd like to have them at the beginning of my list of playlists. iTunes' way of sorting playlists is a little bit particular (and interestingly enough different to the way the Finder sorts files): It sorts Folder before smart playlists before normal playlists. This repeats itself within Folder - Subfolder up front, then smart playlists, then normal playlists. Within each type, the sorting is alphabetically, with numbers before letters. Symbols are mostly in front of numbers, some are after letters (e.g. Ω). Confusing, yes, but with the help of Folder you can basically have your playlists in any order you wish. Want some very cool mix playlists (normal, not smart) directly on top of the list? Make a Folder "! Cool Mix Playlists" and put all your playlists in there. They will be on top of the list, even before my "[1] Ratings" playlist. Helpful.
Last, but definitely not least, I'm sure you've discovered that I have actually seven playlists - for 5 stars. So, what's up with the 'all 3.5 stars' and 'all 4.5 stars' playlists? Well, it turns out internally iTunes doesn't count to 5 when assigning stars to tracks, it counts to 100. Logically, 0 is 0 stars and 100 is 5 stars - which leaves 20 = 1, 40 = 2, 60 = 3, 80 = 4. But what is 70? Yes, you guessed it, 70 is 3.5 stars. Surprisingly, although iTunes doesn't normally support half-stars, it can display them: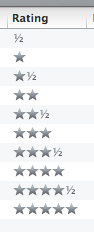 Now, whether you will need such fine granularity in rating your songs depends entirely on you, of course, but if you need it - now you know iTunes is there to support you.
So, how are these smart playlists actually defined, you ask - well, pretty easy. This is what all full-star playlists look like: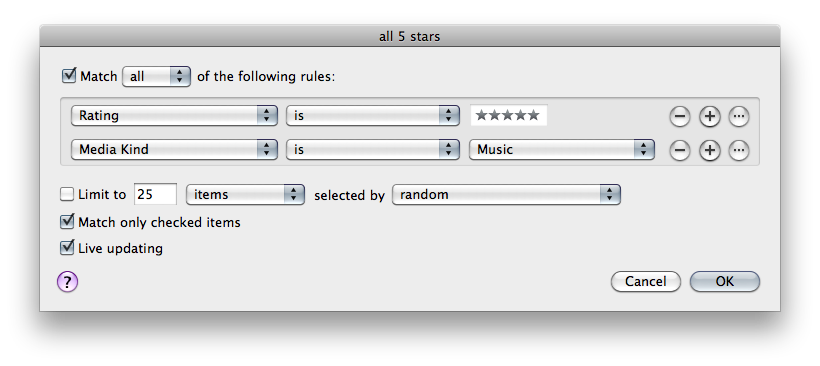 A simple AND operation (Match all) on the actual Rating and the Media Kind 'Music'. Of course, if you want, you can leave the Media Kind Filter out of it, but I'd like to make sure that no music videos, Podcasts or Audiobooks are in my 5 star music playlist. Once again, your mileage may vary.
A limit is not necessary, obviously, since we wanted to have a playlist will all songs matching this rating. Myself, I like to check the 'Match only checked items' box, since I use the check-system in iTunes to mark tracks that don't exist on the harddrive but should remain in the library - these, obviously, should not be used in playlists. Sounds weird, but it happens…
Live updating is a must for me, but I do pay the price. Every time I change the rating of a song, iTunes updates all smart playlists in the background and checks whether the song now belongs in this playlist. On my 2.4Ghz MacBook, this doesn't really help iTunes' sluggish performance, believe me. Nonetheless, the alternative, having smart playlists that aren't so smart and display old, invalid information, is simply not acceptable. And in case you wonder what happens if you do uncheck the box: The playlist gets created as soon as you press OK and doesn't change afterwards, even if less or more songs meet the criteria - until you go back in the playlist definition and press OK again, that is.
For the half-star playlists, there are actually two ways of creating them. If you have enabled this trick, you can simply chose a half-star rating in the smart playlist definition - [UPDATE: This does not work as expected. The resulting playlist is correct, but if you ever go back into the smart playlist definition it changes the stars back to the lower full value, i.e. the half dot gets lost. Very inconvenient. I therefore don't recommend this way of creating half-star lists. Thank you Chris for pointing it out.]: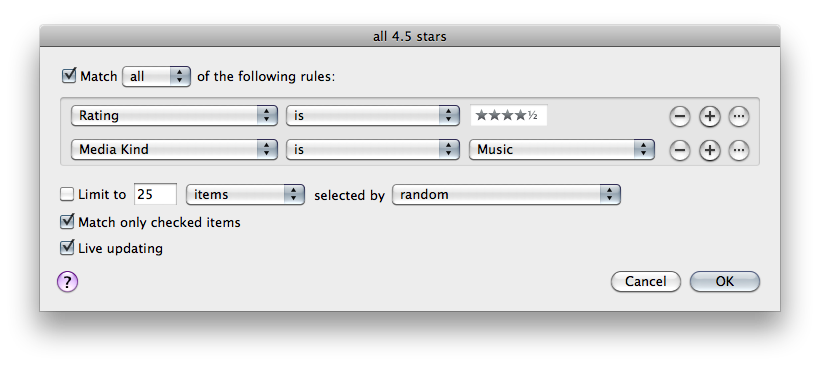 Alternatively you can work with full-star steps and still get any half-star playlist you like: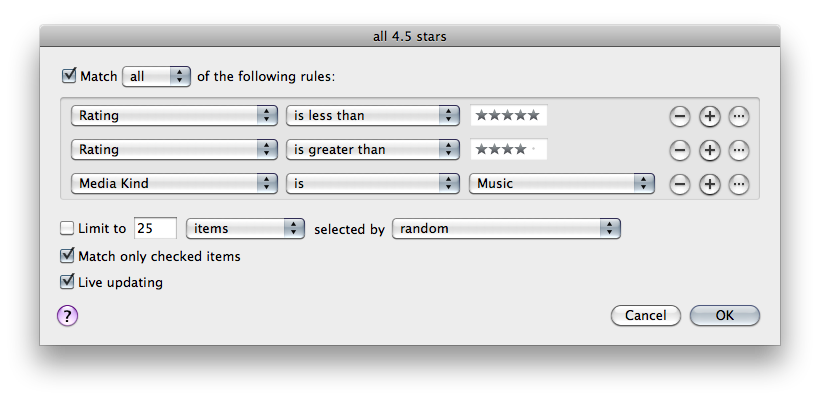 And on this bombshell, it's time to end the show this post. If you have learned something, great, I hope you will use it for good and come back for more. If none of this was new to you please come back anyway, there will be a lot more exciting things in upcoming parts - at least I hope so…
Thank you for sticking out to the end. And if you just skipped here: Shame On You!